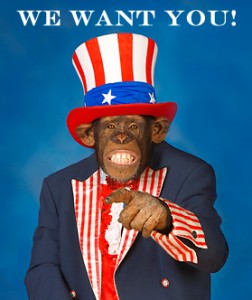 We want YOU . . . to be our guest on TrustHacker. We believe you have something valuable to pass on to our listeners and hope you are willing to share.
TrustHacker is TrustChimp's 30 minute bi-weekly podcast which explores the tricks and traps used by the country's best elder and special needs law attorneys when tackling complex trust and tax issues. TrustHacker is a show created for you, the elder law and special needs law attorney, whether you are trying to master the intricacies of this trying topic or keeping current on your advanced skills. "Trust Hacking" is the term used by creator Bob Mason (a noted expert in this area) to describe any shortcut, skill, or insight that will help any attorney (whether master or novice) crush it in this practice area. In other words, a Trust Hack is anything that solves a trust or tax problem in an inspirational or ingenious way.
TrustHacker follows the unique teaching style created by Bob Mason, which he debuted in his TrustChimp seminars.  Bob's style is both informative and entertaining – and especially designed to de-mystify the trust and tax topic. With TrustHacker, Bob has now taken his signature approach and applied it to regular podcasts that "hack" selected trust and tax topics with the help of well-known guest experts. If you are looking for an informative and entertaining way to 'hack your way out of the trust jungle' while driving to work or walking the dog, this is it!
Notice: Due to the nature of the interview process, not all interviews will be published. TrustHacker reserves the right to refuse publication, for any reason, without notice.
Goal of the Interview
You probably have two types of accomplishments and talents . . . or we wouldn't be reaching out to you.
First, we want to know about your philosophy of practicing law, what you particularly enjoy (and perhaps detest), and what advice you could pass on to our listeners.
Second, we want to discuss certain technical issues pertaining to trusts in a public benefits practice. Those issues could involve drafting, compliance with public benefits rules, or tax issues. If you have ideas for a technical issue you would like to discuss, or if you would like to discuss this beforehand with Bob, shoot him an email (be sure to put a convenient phone number).
Possible Questions
Depending upon your background, Bob will likely ask how you got to where you are, or perhaps (if you are an entrepreneur or sole practitioner) what led you to "go it alone" or break out."
Bob will almost certainly ask you what ONE thing you feel has contributed to your success . . . and perhaps what you wish you could take a "do over" on.
Your advice to struggling lawyers, or perhaps lawyers new to the area and trying to decipher the complex area of public benefits, trusts and trust taxation might alo be important.
Bob will also want to talk to you about some of the technical aspects of what you are most adept at or best known for.
Finally, if you wish, Bob will insure that you have an opportunity to update listeners on what you are involved in and how they can reach you.
Again, if you have ANY questions, please send Bob an email and request a meeting of the minds. Be sure to stick in a phone number!
Interview Agreement: By participating in the TrustHacker interview, you agree to allow TrustChimp, LLC (Bob Mason) to record, distribute, and disseminate the podcast in any manner. You also agree to allow TrustChimp, LLC (Bob Mason) to retain rights to the produced media for potential future use in speeches, books, and in all other public distribution.